Sunday, January 14, 2018 
| Granite Beach, Folsom Lake SRA
The MTB Kickstart is the first of six MTB races that make up the TBF Spring MTB Series. All are held at beautiful Granite Beach, Folsom Lake SRA featuring courses with scenic single track and double track trails to ride on. Included for each athlete in the MTB Kickstart is a tech-tee race shirt, athlete goody bag, hot post race meal and free athlete massage.
There will be 10-year age groups in the Novice, Sport and Expert division; -19, 20-29, 30-39, 40-49, 50-59 and 60+. The Junior division will have no age groups. There will be an Open (39 years and under) and a Masters (40+) category in the Single Speed division. There will be High School divisions for Novice , Sport and Expert with their own start waves.
Six-race TBF MTB Special
You can save $$$ with our six race TBF MTB Special on the MTB Kickstart (Jan. 14), MTB Classic (Jan. 28), MTB Challenge (Feb. 11), MTB Madness (Feb 25), MTB Showdown (Mar. 11) and the MTB Championship (Mar. 25) by signing up before December 1st, 2017.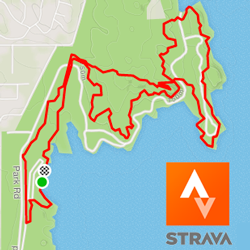 The MTB Kickstart has a 1-lap Novice , Junior and Clydesdale division, a Sport and Single Speed division with 2-laps, and a 3-lap Expert/SS Expert and Pro divisions. Each lap is 6 miles of challenging, scenic, fast single track trails, up and down the foothills surrounding Folsom Lake. The MTB Kickstart is a great way to start the racing season and get back on your mountain bike. The fun course has a mixture of downhills and climbs combined with beautiful single track through the woods and along the lakeshore at Folsom Lake State Park.
The MTB Kickstart race course is on multi-use trails within the Granite Bay State Park on Folsom Lake. The course features a fun, challenging combination of twisting single-track, wide double track, rolling cross-country with lots of turns that flow through the oak and pine forests. The course is perfect for first-timers and exciting fun for all levels. Please be respectful of other trail users including hikers and equestrian riders in this state park. All events are rain or shine, the course is great to ride in all weather. Course Map
Feed Zones
Feed zones will be located on the course serving bottles of cold water, and FLUID Electrolyte beverage.
Equipment
Listening devices of any kind: MP3, IPod, headphones, etc…are not allowed on the bike course. Helmets must be worn and buckled on the bike at all times.
Packet Pickup
Race packets will be available race morning from 7 am to 9 am at the race site. Registration prices increase on Race Day.
Event Schedule
| | |
| --- | --- |
| 7:00 am | Registration/Packet Pick up |
| 7:00 am | Race announcements begin |
| 8:00 am | Start of MTB Kickstart (Juniors only) |
| 9:00 am | Start of MTB Kickstart (Adults) |
| 11:00 am | Start of Awards Ceremony |
Divisions
Men
Pro: one division
Novice, Sport and Expert Divisions: 29 & under, 30-39, 40-49, 50-59 and 60+.
Single Speed Divisions: Open (39-under) and Masters (40+over)
Clydesdale: one division (200lb+)
Junior Divisions: 11-14, 10 & under
Women
Pro/Expert: one division
Sport and Novice Divisions: 34 and under, 35+
Single Speed: one division
Junior Divisions: 11-14, 10 & under
High School
Novice, Sport and Expert Divisions: (Boys, Girls)
Custom race plaques will be awarded three deep in each age group and division as listed above.
TBF MTB Race Series Placement and Awards
Points will be awarded to each rider placing in their division in one of the SIX MTB Races that are part of our 2018 MTB Series: MTB Kickstart, MTB Classic, MTB Challenge, MTB Madness, MTB Showdown and MTB Championship. The rider with the most points that finishes at least five of the six events in each division will be the Series Champion. In the case of ties, the rider that finished with the most first, second, or third place finishes will receive the Championship award. If points are still tied, the final race finish will determine Championship.
Entry Fees
| | Until Race Day | Race Day |
| --- | --- | --- |
| MTB Kickstart – Individual | $45 | $50 |
| MTB Kickstart – 18 and Under | $35 | $40 |
| 3-Race Package for HS Riders/Juniors | $90 | |
| 6-Race MTB Series Special – Individual | $200 | |
| 6-Race MTB Series Special – 18 & Under | $180 | |
Refund and transfer policy
TBF Racing has a no refund policy on all of our events. A refund requested prior to race week will be given a TBF Race credit for the amount of the entry fee minus a $25 processing fee. Credits are not given during race week. Transfers are allowed from one TBF Racing event to another within a one-year time frame. There is a $25 transfer fee. Transfers are not allowed during race week. ALL TBF Racing events are held rain or shine.
Competitor Goodies
Included for each competitor is a MTB Kickstart custom race tech-tee shirt and athlete goody bag with CLIF Bar, Emerald Nuts, RedBull, and other product samples.
Post Race Athlete Food
Included for each competitor is a post race meal of hot soup or chili with fruit, cookies and beverage.
Training and Coaching:
TBF Training provides group workouts and coaching for the sport of Triathlon along with individual Multi-sport Coaching and Personal Training
Race for FREE program
Our Race for FREE Athlete Volunteer Program offers a chance to get involved with multi-sport events, have fun, and earn a $40 TBF Racing Volunteer voucher good towards entry fees at any of our events this year. Each volunteer shift is 4 hours. We ask volunteers to reserve a volunteer position at any of our events by emailing Teri@totalbodyfitness.com as our volunteer positions will fill up quickly.
TBF MTB Camp
The TBF MTB Camp is for all levels of riders and includes professional MTB coaching, drills & skills clinic, dirt-crit practice race, fun group trail ride, and refreshments. Find out more info at www.tbftraining.com
Granite Beach, Folsom Lake SRA
Physical Address: 8000 Douglas Blvd, Granite Bay, CA 95746
Granite Bay State Park on Folsom lake is located at the end of Douglas Blvd, 5-6 miles East of I-80. Turn right at the third stop sign after entering the park for the Granite Beach parking lot. There is a $12 vehicle charge for day-use or $125 for an annual pass. Contact phone: 916 988 0205.
TBF Racing is proud to sponsor and promote Mountain Biking on a local level with our support of the following organizations: